flying without baby
Outback NSW
I've just returned from a 3 day business trip to some country/outback towns. We went out to do some training for our regional staff. In Australia there are large distances between towns once you get out of Sydney - people think nothing of driving for 200km or more to the next town. Some of the people who came to our training sessions drove for 4-5 hours over mostly unsealed roads dodging kangaroos to get to the big towns that we visited.We flew to Dubbo which is a large town and then drove to Cobar the next day which is pretty much dead centre of our state (see map: http://www.wilmap.com.au/ausmaps/nswmap.html ) and then drove to Bourke which is called the "gateway to the real outback". The road from Cobar to Bourke is pretty barren and we had to make sure we left before dusk to cut down the risk of hitting a kangaroo or an emu or stock (sheep, cows, goats). We didn't see any live kangaroos (just roadkill) which is just as well because apparently they tend to be quite erratic and can just decide to jump into the road. We did have to slow down for emus and stop for sheep though. There are also big road trains which are semi trailers with extra trailers on them.
There is a drought at the moment so there is pretty much nothing but red earth to see: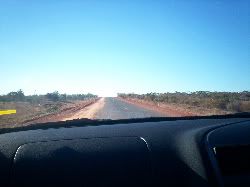 The towns got smaller as we went along - in Australia we have a saying about going out "back of Bourke" which means into the middle of nowhere, and now I can see why! Bourke is very different to Sydney - lots of redneck types. We went for dinner to the RSL club and it was like stepping back into the 50s with vinyl chairs and plastic flowers and all the blokes sitting round the bar. They had this ancient woman working as the waitress too - it was quite a surreal experience!
On the last day we had to drive 200km back from Bourke to Cobar because it no longer has a car hire place, even though it's a regional centre. And then we had to fly home - in this 8 seater Piper Chieftain:
http://nla.gov.au/nla.int-nl39475c-ls301-v
I have always had a fear of flying but am usually okay in bigger planes. I must admit that I was pretty nervous as the plane pulled up because it is pretty tiny - not much bigger than a minibus. At the airport the one person that works there was on the 2 way radio with the pilot (who was flying down from Bourke with some passengers to pick us up) and they have to weigh everything to work out how to balance the plane correctly. Then the pilot decides where you sit according to weight etc. I got to sit right at the back (where the door is open on the photo above) right next to the exit. Luckily the guy next to me was nice and kept chatting to me so it made me less nervous - plus I was in charge of refreshments for the flight (there was a cooler of cold drinks and a container of barley sugars to hand around). It was a surprisingly smooth flight and to look down over the bush and then the farms is pretty amazing. I'm actually glad that we did it rather than driving to Dubbo to get on the bigger (well, 20 seater) planes. And proud of myself too - because a couple of years ago there would have been no way that I would have gotten on a plane like that (I'm still not getting on a single engine one though!)